Rancho Mission Viejo Update
We have received our permit to build from OC Public Works and we begin what should be a 4-month buildout of our state-of-the-art swim center in Rancho Mission Viejo. Evolution Swim Academy now offers South Orange County families two year-round learn-to-swim schools to choose from, where lessons are taught by some of the most qualified swim instructors available.
Evolution Swim Academy was founded in 2005 and offers our clients the most complete learn-to-swim programming available. Our inhouse curriculum consists of 3 Parent & Me lesson plans, 5 Safety lesson plans, and 3 stroke technique lesson plans. In addition, we also offer 2 lesson plans for precompetitive swimmers (Intro to Gators). Once a swimmers graduates from the Intro to Gators program, he/she will be ready to participate and thrive on the Gators Swim Club.
With the addition of our Rancho Mission Viejo swim center, all families in South Orange County will be within 15 minutes of one of our swim centers. Participating in swim lessons has never been more convenient. So, why swim with Evolution Swim? Here are just a few of the advantages that families will get by swimming with us.
We are the only swim school in South Orange County with two indoor swim locations.
We only hire and train the best instructors
Our inhouse curriculum is modified yearly to maintain best practices.
Our facilities are spotless, our water is very clean, and our pool room is air and water temperature controlled for an optimal learning environment.
You can always trial a class before you commit.
Our small group lessons max out at 3 students per instructor.
If you are considering starting lessons and would like to register for our new location in Rancho Mission Viejo, you can join the Founder's Club and get access to savings on lessons and much more. We look forward to having you join us this spring in Rancho Mission Viejo or, if you would like to join us today, you can register to attend lessons at our Mission Viejo swim center.

Upcoming events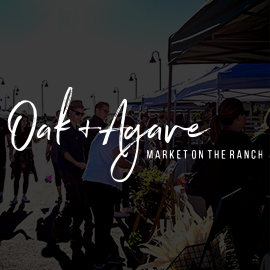 Evolution Swim Academy Rancho Mission Viejo will be featured at the Oak + Agave Market on the Ranch. This year's virtual event will take place on December 5th and will be hosted on their website (oakandagaveco.com) and on their Instagram stories (@oakandagavemarket). Evolution Swim Academy Rancho Mission Viejo is proud to promote this event, put on by Rancho Mission Viejo resident Simone Udink. This event will feature our Founder's Club promotion as well as an assortment of offerings by other local vendors.
Level Highlight: Starfish 1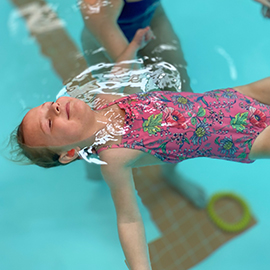 The Starfish 1 lesson plan is the first of five safety lesson plans. Before a student can learn to swim, he must learn to survive in the water and the Starfish 1 lesson plans jumpstarts a swimmer's learning by providing the tools needed to adjust to instructor/student instruction without the presence of a parent.
The Starfish 1 lesson plan is taught in a small group format (3 students per instructor) and the class lasts 28 minutes. We recommend students accelerate their learning by attending swim lessons 2x per week when enrolled in the Starfish 1 – 3 lesson plans. Our highly trained instructors work with students to acclimate them to swim lessons and to increase overall comfort, both above and beneath the surface of the water. Students will also work on back floating skills with the assistance of an instructor.
This lesson plan is ideal for new students who may be timid and fearful of the water.