Parent & Me – Swim Classes Orange County
Parent & Me lessons are more than just fun. These classes are educational and have lead to very interesting findings in studies. For example, in 2010, the American Academy of Pediatrics (AAP) formally revised their policy on drowning prevention based on a study performed by the National Institute of Health (NIH) which found that formal swimming lessons between the ages of 1 – 4 lead to an 88% reduction of risk from drowning. Further studies have been performed by the Norwegian University of Science and Technology reveals that infants that participated in swimming lessons demonstrated better balance and motor skills from the start of their lessons up to the age of 5. These lessons are best performed in controlled climates.
We invite you to try your first class for free. With 80° air temperature and 90° water temperature, Evolution Swim Academy Mission Viejo is the optimal learn to swim facility in Orange County.

Water Bugs 1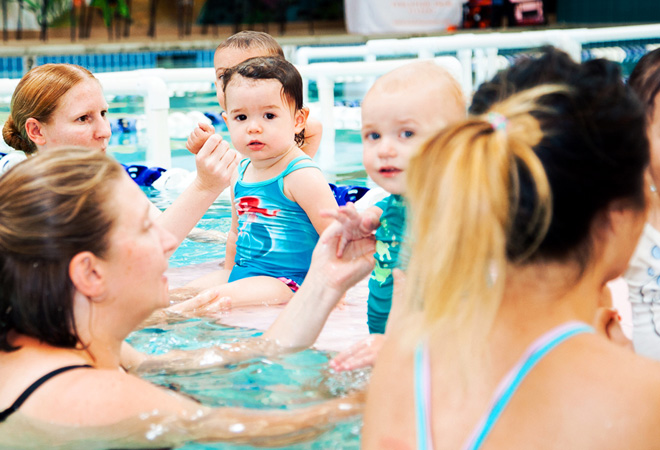 Water Bugs 1
Details: Free class | 3-6 months | 30-minute class | Certified Swim Instructor lead parent/toddler class | 6:1 student-to-instructor ratio.
Water Bugs 2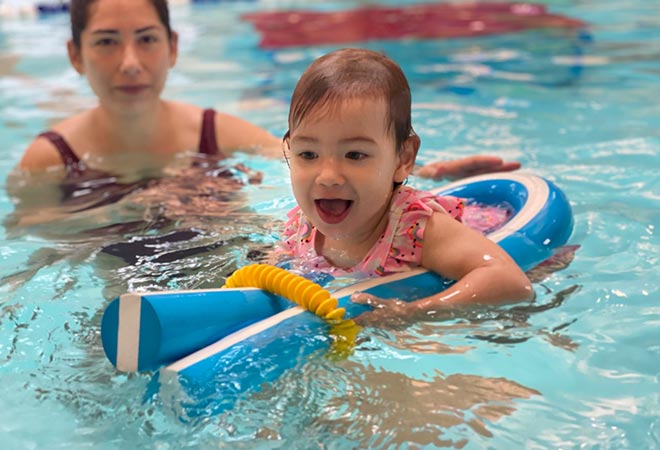 Water Bugs 2
Details: 7-18 months | 30-minute class | Certified Swim Instructor lead parent/toddler class | 6:1 student-to-instructor ratio.
Parent and Child Swimming Lessons
The ability to swim is a highly beneficial skill. Not only is it potentially life-saving, it's also one of the best forms of exercise for stamina and total muscle engagement. Swimming improves coordination, and it strengthens muscles needed to stand and walk. Moreover, the act of paddling through the water activates billions of neurons throughout a baby's body, facilitating cognitive and motor development. Although it seems counter-intuitive to start giving your child swimming lessons before she can walk, swimming lessons for mother and child may help your little one walk like a champ!
In addition to building physical strength, parent and child swimming lessons offer the following benefits:
Significantly reduces drowning risk. Children between the ages of 1 and 4 are at the highest risk of drowning. Professional swimming instruction may reduce drowning probability by nearly 88%.
Helps promote healthy sleep. Swimming requires significant energy exertion. Parents may find that their little ones fall into a deep and restful sleep after a swimming class.
Promotes parent and child bonding time. Parent and child swimming lessons give parents the opportunity to spend a block of unobstructed time focusing on their children, where they cheer their progress and help them feel safe and protected.
Evolution Swim Academy's mommy and baby swim classes are designed to provide a safe and supportive environment for parents and children of all swimming abilities and comfort levels.
(949) 388-4545
info@evolutionswim.com